"I'm in love with helping people, especially with raising money for breast cancer research."
It's not every day that you meet some like Chris James. A dedicated apprentice, an experienced athlete, and a caretaker for breast cancer.
Meet Chris.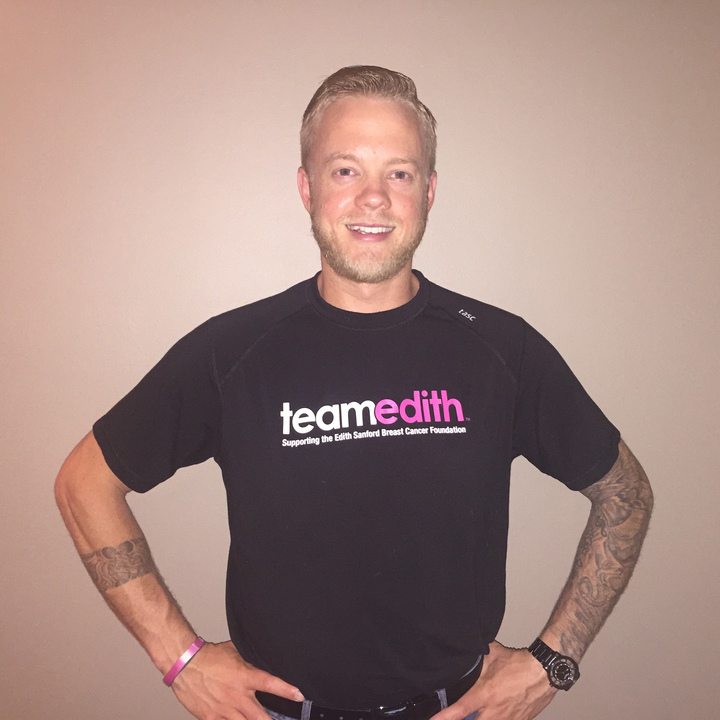 This fall, Chris will compete in the very prestigious triathlon, the Ironman. His run will support the Edith Sanford Breast Cancer Foundation. The triathlon will take place on September 25.
Explore Chris' incredible journey through this video.
About Chris
Chris is a fourth-year apprentice with SMART. He made his way to us after being a welder for the Marine Corps. He was intrigued by Local 265 union, the camaraderie, and the benefits that came with being a part of a great organization. He also found a connection to our values of quality and integrity, as he appreciates the quality five-year apprenticeship he's a part of and carries integrity everywhere he goes, just as the Marines have instilled in him. Thanks to these factors, SMART was the perfect fit for Chris and he's dedicated himself to SMART and the union ever since.
Chris was born in Chattanooga, Tennessee, but spent most of his life in Illinois and Georgia. When he's not training for the Ironman triathlon, he spends his spare time with his fiancé (who he says he wouldn't be able to train and do this triathlon without), dogs, and performing gigs.
Chris' Journey to the Ironman Triathlon
Though this is Chris' first time competing in a triathlon, he's an experienced athlete who has participated in everything from 5ks to 100 mile runs, including an extensive Olympic triathlon. His influence to compete in the Ironman derived from seeing it firsthand. He supported his friend during his entire Ironman in Louisville. By being exposed to the triathlon and the amazing spirits of the triathletes, he was completely won over. He says the community even reminded him of SMART.
As Chris began his Ironman search, there were some key things that stuck out to him, making it clear that he was meant to do the triathlon. First, he found that Chattanooga was one of the locations. Being that this is hometown, this alone sold him. Unfortunately, as he went to sign up, the Chattanooga triathlon was full. But this didn't stop Chris.
The Ironman also allows people to fundraise for organizations. The organization that stuck out to Chris was the Edith Sanford Breast Cancer Foundation. Choosing this foundation meant more to him than just a means to enter the triathlon, but as a way to support a cause that was near to his heart. His grandmother passed away from breast cancer, and Team Edith was the perfect way for Chris to help the breast cancer community.
Supporting a foundation for the triathlon comes with a huge commitment. The typical registration fee for the Ironman is $700. However, to support a foundation, you're obligated to raise money for it. Chris' goal is to raise $5,000, and he must hit a minimum of at least $3,500. So far, he has raised money through music gigs and support from his family and friends. Check out his donation page.
More About the Ironman
This triathlon is prestigious because it is the biggest and most rigorous triathlon of its kind. It consists of a 2.4-mile swim, 112-mile bike ride, and a 22.6-mile run. The triathlon runs from 7:30 a.m. to midnight of the following day, giving the triathletes a total of 16.5 hours to complete the competition.
Chris has an equally intense training schedule as the triathlon, as he's been thoroughly preparing for the Ironman on a daily basis. For nutrition, Chris consumes 3,000-4,000 calories a day. He currently trains 11-13 hours of a week, but will increase to 16+ hours a week as the triathlon nears. To break down his weekly schedule:
Monday:

Swim

Tuesday:

Bike

Wednesday:

Swim

Thursday:

Bike and Short Distance Run

Saturday:

Swim and Long Distance Run

Sunday:

Long Distance Bike & Short Distance Run
Chris gives himself Friday off to take a break.
Chris also has a swim coach, who helps him greatly with water-based athletic training, as it was not something he practiced competitively until this past winter.
Inspiration for Aspiring Triathletes
For those that are aspiring to become triathletes, Chris says, "It takes discipline and the will to live a healthy lifestyle. First, get the right gear (don't just go cheap.) Also, pay attention to what you eat and be sure to get your nutrients and stay hydrated. Step out your comfort zone, start small, and listen to your body."
Lastly, he says to "respect the distance", so be sure to train consistently and keep a great support system.
Quotes That Have Inspired Chris
"Make yourself stronger than your excuses."
"7-minute mile or 14-minute mile – it's still a mile."
Chris & SMART
Chris' goal is to be able to combine Edith Sanford and I Want Smart to bring awareness to breast cancer and shed new light on the union. Chris says that he wouldn't have been able to do the race without the help of SMART, as we have been able to support him mentally and financially through his journey. He reached out to SMART for help with fundraising and we were pleased to lend a hand. We're extremely proud of Chris' story and journey to the Ironman. Now we're on a mission to share his story with the world.
We look forward to following Chris' journey, and we encourage you to follow with us. To support Chris, visit his donation page. To stay updated, follow our Facebook page.
Updates – 8/18/2016
– Chris has reached his $3,500 minimum. Help him reach his goal of $5,000 on his donation page.
– His training has increased to 15 hours a week and has remained injury free!
– He will taper in the next few weeks, meaning that he will decrease his workout load to allow his body to recover and rest in preparation for race day.
– He has completed his nutrition and consumption plan for race day.
Best of luck Chris! September 25 will be here before you know it!
https://iwantsmart.com/wp-content/uploads/2016/07/IMG_2599-1.jpg
1536
2048
Zack Dessent
https://iwantsmart.com/wp-content/uploads/2019/02/SMARTlogo-nav2019-300x146.png
Zack Dessent
2016-07-22 14:59:31
2016-08-18 18:03:46
Apprentice by Day, Triathlete by Night