With all the tips and tricks dedicated to
maintaining your system
and keeping your energy costs low, it can sometimes be challenging to keep up with them all.
One very simple step to remember is to monitor your thermostat.
First, here's what you should know about your thermostat:
Why should you care about your thermostat?
Heating and cooling your home costs about 54% of your utility bills.
The more strategic you are in using and monitoring your thermostat, the more you can decrease this percentage.
Here are the steps to take when monitoring your thermostat:
Adjust the temperature when you're in and out of your home.


Take note of the

3% you can save

on your energy costs for adjusting air conditioning temperatures accordingly.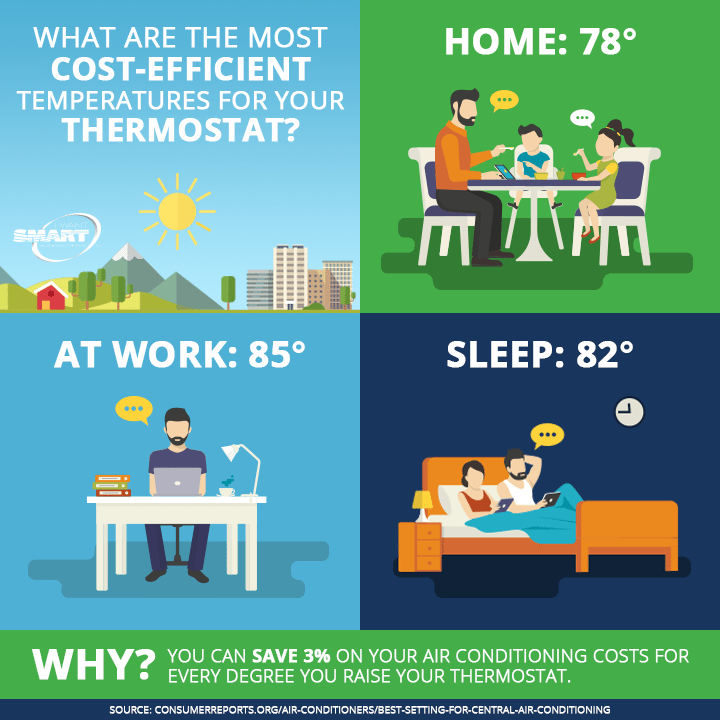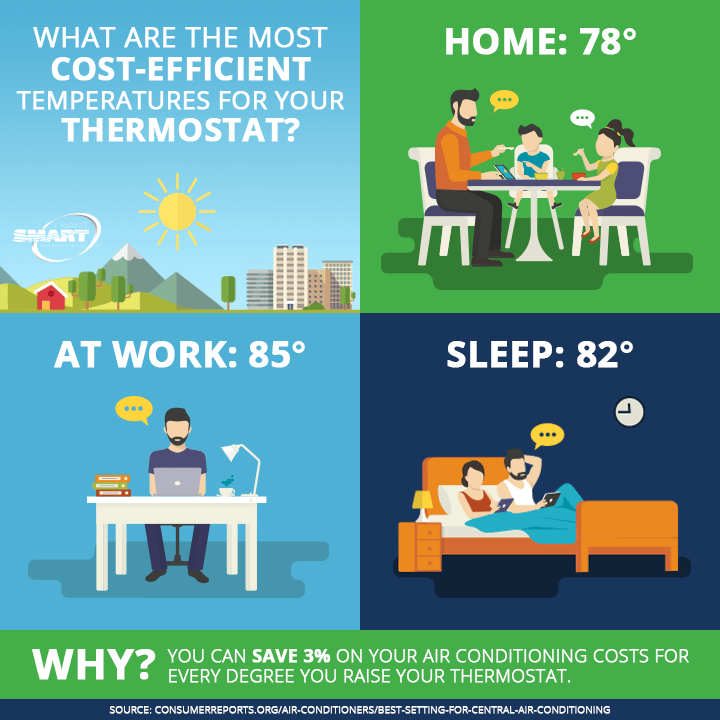 Make sure your HVAC units are ready for every season.
Get a programmable thermostat.


Not only will this make adjusting temperatures throughout the day much easier, but the newest versions come with user-friendly touch screens and even mobile applications that allow you to monitor your thermostat from the palm of your hand.
Pick the right thermostat.
You have four options of programmable thermostats to choose from. Make sure you choose the one that will best complement your lifestyle.
7-Day Programming:

Program a different schedule for each day of the week. Best for people with fluctuating schedules.

5-1-1 Programming:

Program three schedules – one for Monday through Friday, one for Saturday, and one for Sunday. This is best if you have a consistent schedule for weekdays and fluctuating schedules on Saturdays and Sundays.

5-2 Programming:

Program two schedules – one for Monday through Friday and one for Saturday and Sunday. This is best if you have a consistent schedule during the weekdays and weekends.

1-Week Programming:

Program one schedule for the entire week. Best for those that spend the majority of their time at home.
Keep in mind that these schedules will need to be adjusted when the season changes.
Here are some other thermostat tips to keep in mind:
Program your thermostat to turn on 20 to 30 minutes before you come home.

Lower your thermostat 60 minutes before bedtime.

Increase your thermostat 30 minutes before waking up.
Taking the best care of your thermostat with these tips is a very efficient way to save on your energy costs. Making sure your HVAC systems are up-to-par will help you save, too. We can help with that – give us a try.
https://iwantsmart.com/wp-content/uploads/2016/08/QubyDisplay_Home_withbackground.png
1326
2048
Zack Dessent
http://iwantsmart.com/wp-content/uploads/2023/01/IWS-Logo2023-300x175.png
Zack Dessent
2016-08-31 18:45:40
2016-10-11 16:18:18
Taking the Best Care of Your Thermostat (Infographic)